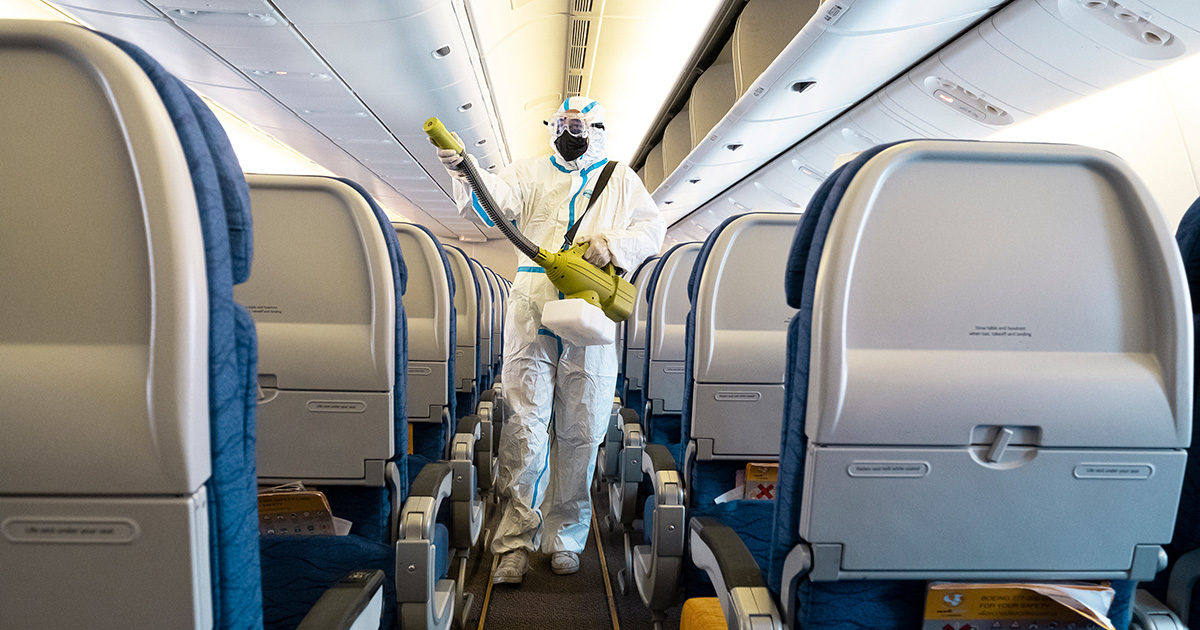 As you are well aware by now, Coronavirus has prevented people from travelling abroad this year, which meant that people were been forced to abandon or rearrange holiday plans for 2020.
However, with lockdown measures being lifted across the globe, foreign travel is now becoming possible and people are looking to try and make the most of the summer they have left. Many are even looking at winter breaks with the theory that the cases and deaths of coronavirus will decrease as the year goes on.
Air travel is slowly returning to a normal state and airfares are at the cheapest they've been in years as airlines are desperate to get their customers back. The Foreign Office has even announced that all non-essential travel has been lifted for countries where the risk of infection is no longer a high threat. Even quarantine restrictions have been relaxed for travellers when returning to the UK.
It's important to realise though that the virus hasn't disappeared altogether and to be wary if you decide to travel abroad. There are still rules in place and guidelines to follow while travelling overseas.
Here is everything we know about the current state of travelling and the latest advice from the UK government.
Which Countries Can I Travel To Without Having To Quarantine Afterwards?
The UK government has allowed travel to over 50 overseas destinations. Which means that travellers will not have self-isolate for a 14-day period upon their return. This is due to the fact that these destinations have been deemed to pose a lower Coronavirus risk. Destinations include the majority of Europe, as well as New Zealand and Japan.
If you are returning to the UK (barring Scotland), you are safe to travel to the follow destinations without having to quarantine*;
Akrotiri and Dhekelia, Andorra, Anguilla, Antigua and Barbuda, Aruba, Australia, Austria, The Bahamas, Barbados, Belgium, Bermuda, Bonaire, St Eustatius and Saba, British Antarctic Territory, British Indian Ocean Territory, British Virgin Islands, Cayman Islands, the Channel Islands, Croatia, Curaçao, Cyprus, Czech Republic, Denmark, Dominica, Falkland Islands, Faroe Islands, Fiji, Finland, France, French Polynesia, Gibraltar, Germany, Greece, Greenland, Grenada, Guadeloupe, Hong Kong, Hungary, Iceland, Ireland, the Isle of Man, Italy, Jamaica, Japan, Liechtenstein, Lithuania, Luxembourg, Macao (Macau), Malta, Mauritius, Monaco, Montserrat, the Netherlands, New Caledonia, New Zealand, Norway, Pitcairn, Henderson, Ducie and Oeno Islands, Poland, Reunion, San Marino, Seychelles, Slovakia, South Korea, South Georgia and the South Sandwich Islands, Spain, St Barthélemy, St Helena, Ascension and Tristan da Cunha, St Kitts and Nevis, St Lucia, St Pierre and Miquelon, Switzerland, Taiwan, Trinidad and Tobago, Turkey, Turks and Caicos Islands, Vatican City State, Vietnam.
Anyone who is travelling from Scotland must follow different procedures compared to the rest of the UK. Due to the rate of infection within the country, travellers are still required to undergo a 14-day quarantine period.
*Correct as of 22nd July 2020.
Which Destinations Require Me To Quarantine After I Travel back?
Even though there are plenty of destinations opening up to overseas travellers, there are still popular holidays destinations that are exempt from the travel list and if you are to travel there, you will need to quarantine for a 14-day period. Countries including United States, Canada, Sweden, Portugal, and Russia.
The vast majority of countries in South America, Africa, the Middle East and Asia are currently off limits for travellers as well unless it is essential.
The UK government is updating its exempt travel list on a daily basis and are adding or removing countries at short notice. For instance, Slovakia was deemed safe to travel to yesterday (21st July 2020). So make sure to check constantly what the latest travel news is.
Will My Travel Insurance Cover Me If I Get Coronavirus?
Most Travel Insurance policies that you take out will cover you if you were to fall ill or injured while overseas. Currently not all policies will cover you for coronavirus-related illnesses. Policies are now being sold to people which will cover them for emergency treatment or deportation for coronavirus if you are to contract it while in a resort. However, it will not cover you if the symptoms originated by contracting the virus beforehand in the UK.
You will have to check with your insurer before you undertake any type of travel insurance what exactly is covered. For a lot of insurers, your travel insurance will not be valid while travelling to exempt countries and most will not even insure you.
The Foreign Office has advised the UK public to not undertake any holiday involving a cruise as it is likely that they will travel to a number of high-risk countries. In this instance, your travel insurance will not be valid. If you travel to the likes of Italy, Spain or Switzerland where travel is now acceptable, there will be different cover depending on your policy. Check with your insurer beforehand.
It is important to note that it is highly unlikely that you will be covered for any coronavirus-related delays or cancellations if you purchase travel insurance now. Those who purchased or renewed insurance prior to March may still be able to make claims for cancellations. Check your policy first.
Travel companies are also unlikely to give a refund or allow you to rearrange your holiday if you develop coronavirus symptoms. If you develop symptoms or are told to self-isolate then there will be very little protection for you. If you are affected by the virus while abroad then you will be able to make a claim on your travel insurance.
Can I Get A Refund For Cancelled Plans?
You can get refunds for any cancelled flights or packaged holidays but there is a delay as there is a backlog of holiday goers to deal with. Typically, refunds take 14 days to process. Due to travel companies and airlines having to deal with an overwhelming number of enquiries, this process will take a lot longer than anticipated - so be patient.
Many airlines are offering vouchers for future flights instead of full refunds – however, you can still opt to receive a full refund if you wish to decline the voucher.
Due to airlines struggling financially during this period, there is a possibility of the airline folding. This will mean that your voucher will become invalid. So think long and hard before making a decision on accepting any vouchers from airlines.
If you decide to rebook your flight for a later date and end up not flying, you will no longer be entitled to a refund and will not be covered under your travel insurance due to the flight not being cancelled.
If you have booked any hotels or car hire for your holiday, it's worth looking at the terms and conditions in 'disruption cover' as it may pay out for lost costs.
What If I Contract Coronavirus While Abroad?
If you have been in contact with coronavirus in any way, shape or form while abroad, please follow local public health advice if it's available to you and speak to your healthcare provider or travel insurance company as soon as possible for further advice.
Be aware if you start developing any the following symptoms while abroad:
If you do develop any of these symptoms:
Stay indoors and avoid contact with anyone else

Call your healthcare provider or travel insurance company to discuss what you should do

Follow local public health guidance if it's available to you
If you become unwell while inside airports, train or bus stations before or after a long trip, please seek medical advice immediately and do not start or continue your journey. Once you have fully recovered, please contact your healthcare provider if you are fit and eligible to travel again. Please note that you may run into the possibility of having to self-isolate for 14-days upon your arrival to the UK.