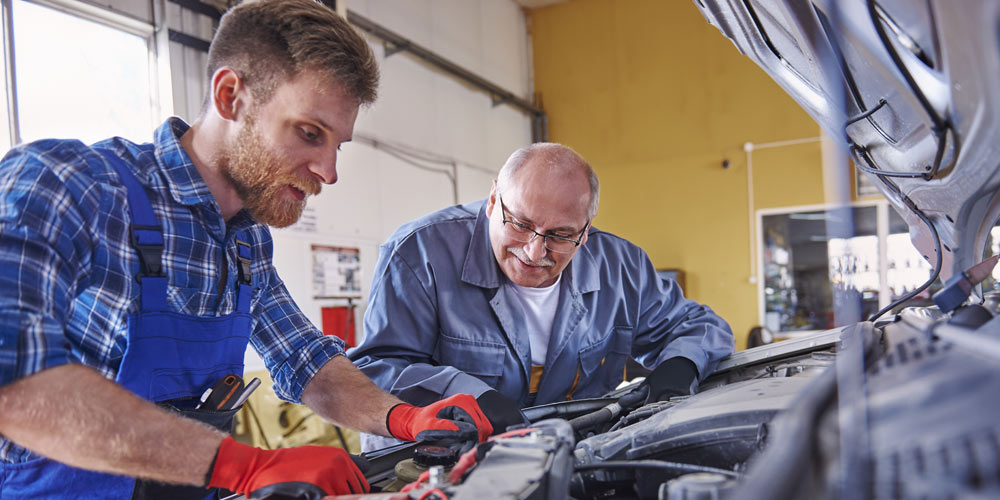 Reducing your overheads should be the primary target for every business in the motor trade industry. While many regular insurers won't consider providing cover for those working in the industry, it's still an important aspect and it shouldn't be overlooked. If you go about things the right way and spend a bit of time researching, you'll be able to find the right policy that suits your needs.
It is important to remember that all types of business in the auto industry could be saving money on their Motor Trade insurance. Help could now be at hand if you work as a body repairer, at a MOT stations or a company involved with vehicle sales.
Regardless of the size and budget of your company, following these simple steps could be extremely effective towards saving your Motor Trade business money – and all without having to sacrifice on the level of cover, service, and the excess or deductible you pay. So, what can you do?
There are different kinds of Motor Trade insurance policies. Since each trader has his own business needs, not all policies are applicable to everybody. For instance, fully comprehensive cover may feel like a good option initially, but the premiums are going to be the highest. Moreover, there will be cover included in your policy that you may not need. So you will end up paying more for being covered for situations that are unlikely to come up in your business.
An effective way of saving money on your Motor Trade insurance is to be very specific about the needs of your business. Do not let the broker you're talking to convince you into buying cover that is unnecessary. Choose a company that understands your needs and gives you a comprehensive insurance policy to cover only those risk factors.
Hidden costs are the main cause for a lot of businessmen shelling out more money that they would like on Motor Trade insurance policies. These costs become evident only after the owner buys the policy. In order to escape from these hidden costs, it is important that the owner of the business talks things out with the insurance company to get an affordable traders insurance price.
To be sure, you can consult an independent insurance agent who can evaluate the quote and give you the right advice. Clarify any kind of doubt that may arise. Since you are the one running the business, you know what is best. So beware of hidden costs and save a considerable amount on your insurance policy.
Contrary to popular belief, hiding facts from the insurance company does not help you at all. If your insurer gets to know that you use the insured vehicles on your policy for purposes other than those mentioned in the terms and conditions of your contract, they will terminate it and you will end up losing money. Therefore, it is important that you honestly reveal all of the facts and figures to the insurance company so they can draw up a comprehensive policy suitable to your needs.
Buying an insurance policy is not just about saving money. It is for the protection of your business and simultaneously, the protection of your employees, the customers, and any third-parties that may be involved in the accident. The trick is to get the best possible deal that encompasses all your business needs. Leaving out facts in order to save money in a contradiction to the whole concept of purchasing insurance in the first place.
There are many insurance companies who do not allow a trader to add the vehicle of the spouse to the motor trade insurance policy. However, there are plenty of companies that will allow you to do this. Start looking for companies that give you a comprehensive motor trade policy that is inclusive of your partner. The addition will cost you just a bit more, usually only up to 5% of your total premium. When you think about the money you can save by not purchasing two different policies, this option will work out to be more affordable.
The internet has made the job of locating experts or specialists in particular types of insurance much easier with a simple search by using Google. They're likely to yield a list of specialists for the type of insurance you are looking for. However, you do need to be careful that the company you're talking to are experts for Motor Trade insurance, that's why it is also beneficial to pick up the phone and talk to them so they can answer the questions you have. Asking them questions is a great way to establish if they are the experts they claim to be.
By finding a broker who specifically deals with motor traders, they are more likely to understand your requirements and precise needs. They're also more likely to get you a better deal due to having industry knowledge and knowing the market. They'll have relationships with dedicated underwriters that will be able to tailor your policy to suit your needs.
You have to keep in mind that your business could look different year to year. It's important to make sure that all of the details that you give to your insurance provider are correct and up-to-date. Failing to disclose certain information can end up being costly, so being honest from the get-go is huge. If you end up needing to make a claim and your insurer finds out that you have provided them with false information, your insurance could be invalidated and you could be left to pay for the entire bill.
Make sure that the following are assessed on a regular basis:
Business Type – Be upfront with your insurer about your activities as this will save you money on your insurance.
Drivers – As employees come and go, make sure that you are no longer insuring someone who doesn't work for you. Also, reconsider the importance of insuring all of your current staff. If someone doesn't need insurance or doesn't have the right policy, change it.
Vehicle Types & Values – Chances are that you'll need different types of vehicles for your business. Always check that you are insuring these vehicles correctly as this can save you money. Your vehicles could also decrease or increase in value over time. Review your stock and make sure that your insurer has the correct value for each vehicle that you use.
Excess – If you've had very few incidents since starting your business then you can consider paying a higher excess to lower your insurance price. However, if an accident takes place then you will have to pay more. If you have few incidents in the first place, then this can save you money over time.
Public & Employers Liability – Having public and employers liability insurance is an essential type of cover and can save you a lot of time and money if someone has to make a claim against you.
If you are a motor trader who is looking to reduce your overheads whilst at the same time maintaining or even improving your motor trade insurance policy, take action now by following these tips. Kompare work with the leading UK Motor Trade brokers to bring you the most competitive quotes available to you on the market. Find out how much you can save on your policy today by filling out our quick and simple quote form.